Posts for: December, 2017
By Little Sprout Pediatric Dentistry
December 30, 2017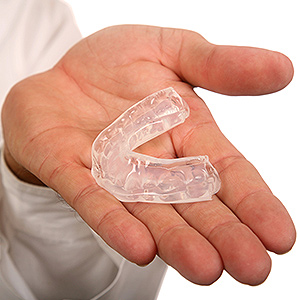 Athletes in contact sports are at significant risk for traumatic injury to their teeth and mouth. It's estimated 600,000 emergency room visits each year involve a sports-related dental injury.
Athletic mouthguards have become the premier safeguard against sports-related oral injuries. First worn by professional boxers in the 1920s, mouthguards are now required for use by various sports associations and leagues — from amateur youth to professional — for a number of sports. The National Collegiate Athletic Association (NCAA), for example, requires their use during play for hockey, lacrosse, field hockey and football. The American Dental Association recommends mouthguards for 29 sports or exercise activities.
But do mouthguards actually prevent injury? To answer that question in a scientific manner, the Journal of Sports Medicine published an evidence-based report in 2007 on mouthguard effectiveness for preventing or reducing the severity of oral-facial injuries and concussions. While the report objectively analyzed many of the problems and issues associated with mouthguards (like materials, design and durability), it concluded the risk of an oral-facial injury was nearly two times greater without the wearing of a mouthguard.
That being said, most dentists and other professionals in sports safety would advise not all mouthguards are alike. The stock, "off the shelf" mouthguard found in many retail stores with limited size offerings is the least expensive, but also least protective, of mouthguard types. Mouth-formed or "boil-and-bite" protectors, which are softened in boiling water and then bit down on by the player to form the fit, are better than the stock version — however, they often don't cover all of the player's back teeth.
The best option is a custom-designed guard made by a dentist for the individual patient. Although relatively expensive (costs range in the hundreds, compared with $25 or less for a stock guard), they provide the highest recognized level of mouth protection.
The bottom line: a mouthguard is a must-wear part of any uniform for any sport that involves contact or high velocity objects of play. If you or a family member is a contact sport athlete, it's essential you protect your teeth and mouth with a custom-fit, high quality mouthguard.
If you would like more information on mouthguards, please contact us or schedule an appointment for a consultation. You can also learn more about this topic by reading the Dear Doctor magazine article "Athletic Mouthguards."
By Little Sprout Pediatric Dentistry
December 15, 2017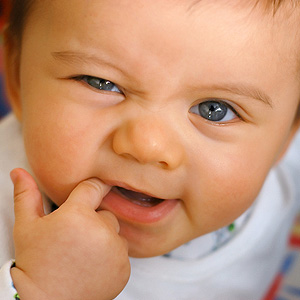 Your sweet, happy baby has suddenly become a gnawing, drooling bundle of irritation. Don't worry, though, no one has switched babies on you. Your child is teething.
For most children, their first teeth begin breaking through the gums around six to nine months. Usually by age three all twenty primary ("baby") teeth have erupted. While the duration and intensity of teething differs among children, there are some common symptoms to expect.
Top of the list, of course, is irritability from pain, discomfort and disrupted sleep. You'll also notice increased gnawing, ear rubbing, decreased appetite, gum swelling or facial rash brought on by increased saliva (drooling). Teething symptoms seem to increase about four days before a tooth begins to break through the gums and taper off about three days after.
You may occasionally see bluish swellings along the gums known as eruption cysts. These typically aren't cause for concern: Â the cyst usually "pops" and disappears as the tooth breaks through it. On the other hand, diarrhea, body rashes or fever are causes for concern — if these occur you should call us or your pediatrician for an examination.
While teething must run its course, there are some things you can do to minimize your child's discomfort:
Provide them a clean, soft teething ring or pacifier to gnaw or chew — a wet washcloth (or a cold treat for older children) may also work. Chill it first to provide a pain-reducing effect, but don't freeze it — that could burn the gums.
Use a clean finger to massage swollen gums — gently rubbing the gums helps counteract the pressure caused by an erupting tooth.
Alleviate persistent pain with medication — With your doctor's recommendation, you can give them a child's dosage of acetaminophen or ibuprofen (not aspirin), to take the edge off teething pain.
There are also things you should not do, like applying rubbing alcohol to the gums or using products with Benzocaine®, a numbing agent, with children younger than two years of age. Be sure you consult us or a physician before administering any drugs.
While it isn't pleasant at the time, teething is part of your child's dental development. With your help, you can ease their discomfort for the relatively short time it lasts.
If you would like more information on relieving discomfort during teething, please contact us or schedule an appointment for a consultation. You can also learn more about this topic by reading the Dear Doctor magazine article "Teething Troubles."